Barclays Business Banking

For Limited Companies and Sole Traders
Barclays Business Banking is here to kick-start your business and provide you with the support you need to flourish in those vital early months and beyond. That's why over a million businesses choose to bank with Barclays.
Why Choose Barclays?
Kick-start your business with free banking for 12 months, with expert advice on hand when you need it in those vital early months.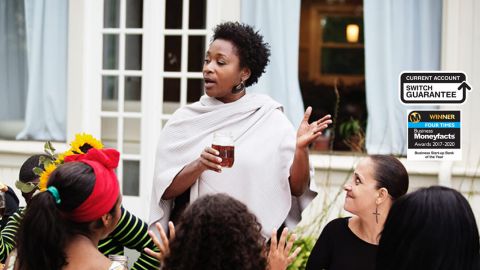 Monthly Loyalty Reward - The longer you stay with us, the more of your bank charges we'll give back to you each month.
Simple price plans - When your free banking period ends, we'll keep your account on the best deal, with two Price Plans that reflect how you make and receive payments.
Expand list of features
Barclaycard
From dektops to portable card machines, e-commerce to telephone sales, we've got a payment solution for you.
Business borrowing
Borrowing for all businesses. Whether your business is expanding or still yet to get off the ground, we can help you plan for the future.
Doing business abroad
We'll help you expand overseas. Whether you're importing or exporting, starting out or expanding further, we have the tools and services to help your business grow.
Foreign currency account
Reduce your exposure to exchange rate fluctuations and simplify international payments, whether you're importing or exporting.
Help protect your business from fraud
Lean about scams that target businesses. Find out how we help to protect your business and see what you can do yourself to stay digitally safe.
High Growth & Entrepreneurs
Energise your ambition. From idea to IPO, we'll be with at every step of your journey - helping you bring your vision to life.
How Barclays gets your details and what happens next
Start by entering your company details below, QuickFile will automatically send your details via a secure link to Barclays.
Once Barclays receives your details, the team will call you to arrange a time convenient for you to open your account.
Telephone appointments now available
Please Note: your contact information will only be used for the purpose of arranging an appointment. We will not add you to a mailing list or contact you for any other reason than opening a business bank account.